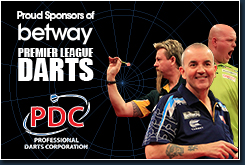 The Premier League Darts 2015 returns this week and will again be sponsored by Betway. The Betway Premier League Darts tournament takes place around the UK and Ireland over the next 15 weeks in the biggest indoors arenas. In even bigger news our Premier League Darts tipster comp returns and Betway have again agreed to sponsor with Free Bet Prizes
Open a Betway Account get £50 of Free Bets
So you need to get yourself an account and place at least one bet at Betway for full participation! (Of course you don't have to – but the more people who sign up, the better the prizes will be in the future so please take 2 minutes to sign up! )

Enter Our Darts Tipster Comp Now
We are looking for the best Darts tipsters on Twitter and online. We have put together a Darts Tipster competition. Simple complete the form below by predicting the score in each of the games remember 6-6 is possible.
If form below does not load correctly also Loading…
Betway are one of the newest bookmakers online and they offer lots of betting options for Darts both before and in play. They also offer great odds for football, tennis and much more. If you open a account today you will get a free £50 matched bet.
Check out the latest Premier League Darts betting at Betway

Monthly Prizes
The prizes are as follows:
1st: £50 of Free Bets at Betway
2nd: £25 of Free Bets at Betway
3rd: £10 of Free Bets at Betway
April Table 2015
| Pos | Name | Twitter Username | Score |
| --- | --- | --- | --- |
| 1 | Dave | vi079 | 15 |
| 2 | Andrew Dougan | dougan90 | 12 |
| 3 | Stephen murphy | badger2910 | 10 |
| 4 | Gary Foster | @gfoss1986 | 10 |
| 5 | lewis mcculloch | lewismcculloch2 | 10 |
| 6 | Chris wright | drchris12: | 10 |
| 7 | luis dias | snipererhc | 10 |
| 8 | James Colford | @trueblue140 | 9 |
| 9 | David Burza | @davidburza1 | 7 |
| 10 | Andrew Atkinson | AndyPandy2016 | 7 |
| 11 | Simon Knuckey | @SMOKEYFORMBY | 7 |
| 12 | Shaun Hirst | @hirstyno2 | 7 |
| 13 | Craig Osborne | @ozwaldo1985 | 7 |
| 14 | John Morris | JohnnyGlen | 7 |
| 15 | Bruce Benton | @ExBamptonPO | 5 |
| 16 | tomwba | @tomwba1982 | 5 |
| 17 | steve power | 1tacyrrah | 5 |
| 18 | Andrew morrison | Morrisonarsenal | 5 |
| 19 | ANDREW PETRIE | @downingarms87 | 4 |
| 20 | Dean Pickering | @PickeringDean | 4 |
| 21 | David Kilroy | Front_row01 | 4 |
| 22 | RITCHIE PARKIN | @Scratville | 2 |
| 23 | Ian Williams | the_phonic39 | 2 |
| 24 | Ken Banks | Kenkenzobanks | 2 |
| 25 | Hugh Orr | @shuglad | 2 |
| 26 | Mark Davies | @saintmark007 | 0 |
March 2015 Table
Attention: The internal data of table "119" is corrupted!
Feb 2015 Table
Attention: The internal data of table "116" is corrupted!
Darts Comp Scoring System
You get 2 points for correctly predicting the result of a Game. For example, if you pick Adrian Lewis v James Wade to end 6-1 and the match score is 6-4 you will get 2 points only if you predict the correct match score you will get 5 points.
Competition Rules
We have few rules just simple rules nothing scary 🙂
The competition will run for a calendar month.
You Must have a Betway account and placed at least one bet to receive the prize Open an Account Here
You have to be a minimum of 18 years old to take part.
One entry per person each day
The selection of winner will be made by the competition organiser alone and will not be swayed by undue influence.
No cash alternative available.
We also reserve the right to exclude entries that we feel are inappropriate or not in the spirit of the competition.
Your details won't be passed onto anyone else, unless you're the winner and then I'll send it to Betway so they can credit your account.
Entries must be received prior to the start of each weeks matches.
In the event of a tie for positions tied entries will be drawn at random using random number generator site ( http://www.random.org/)
Winners will be notified by betting-portal within 7 days. No purchase necessary.
Please allow 30 days for Free Bet to be credited by betway
Who is playing in premier league darts this year
The tournament sees each of the ten players face each other once over the first 8 weeks when the bottom two are relegated. the remaining 8 players then place each other once more before the last place off at the O2.
The players in the betway premier league this year include Phil Taylor, the 16-time World Champion, 2011 Premier League champion Gary Anderson, former World Champions Adrian Lewis and Raymond van Barneveld, Australia's Simon Whitlock, English duo Dave Chisnall and Wes Newton and Scottish pair Robert Thornton and Peter Wright.